Summer Vacation Rentals with pool in Marche Italy
Cooking courses, Cookery classes & Wine tasting
Caravanserraglio is an unspoiled beautiful country house with five main buildings stone's divided into six beautiful Self Catering holiday homes and apartments with separate outside wooden patios and entrances, big swimming pool (m 14x6), with a centuries old park of five hectares at disposal, with oaks, cypresses, olive trees and orchard, meadows, grazing horses, a mini-wood with a playhouse for children, a restaurant where to taste the magic flavours of the country of Marche and , silence and harmony. At the end of a non asphalted road, in one of the most beautiful and unspoiled countryside of Marche, this is the perfect place for your holiday in Marche! Around us stretches the territory of the National Park of the Sibillini Mountains, overlooking the valley of the Chienti river. From Caravanserraglio you can behold the most inspiring views of the splendid 360 degree panorama of the valley and of the strolling hills and Sibillini mountains, this is an ideal place for long walks far away from pollution. Next to that there are nearby villages and cities of artistic and cultural importance that are easy to reach by car. At a distance of only two kilometres lies Serrapetrona, a small mountain village that is famed for it´s wine (Vernaccia), for its pure and healthy water and clean air. At ten kilometres of distance are Tolentino, San Severino and Camerino, Macerata, San Ginesio,Sarnano, small cities that were mainly built during the Rennaissance. Furthermore at Macerata and Civitanova are big shoe markets twice a week worth wile a visit! Just half an hour and you can reach the Adriatic sea with it´s beautiful beaches. From this beautiful retreat you can visit famous art cities: Ascoli Piceno, Urbino, Loreto, Assisi, Gubbio and Perugia (about one hour by car). For a sensation of the miracles of nature you can´t miss to see Castalluccio di Norcia (a wonderful plateau with thousands of flowers in all the colours of the rainbow) and the stalactitic caves of Frassasi. By foot or by mountain bike you can nevertheless reach places of fascinating beauty. We have some mountainbikes available.
"This is a fantastic area, magic, it is like to go back in time... the views are amazing, the people incredibly friendly, a lot of naturalistic and artistic attractions in the surrounding, the food really high quality, and the people always remember to share everything with good humor and a real Italian smile. It is a pleasure how you can feel welcome in this area of the Sibillini mountain, and transform a simple vacation in the most memorable holiday in Marche!"
Everything combines to create perfect atmosphere for your holiday. Whether just planning to stay and relax, read a book side the pool, enjoing a glass of wine, or join a cooking course at our restaurant. There´s always time to have a chat, to try our traditional Marche organic food, drink a glass of good Italian Wine, a visit here becomes an Italian holiday voyage of discovery, an opportunity to learn about the true flavors of Marche, to taste Italian olive oil made from the fruit of our Marche Agriturismo ancient olive trees, or authentic Italian wine made by dear friends from Serrapetrona. During your Italy vacation, maybe we´ll visit in on a nearby shepherd to try some pecorino cheese that is still made the old way, and you´ll learn to cook some traditional and typical Italian dishes. And we always remember to share everything with good humor and a real Italian smile. We look forward to welcoming you and making your holiday Marche holiday a most memorable one! See you at Caravanserraglio!

Choose your Marche Holiday Home Today!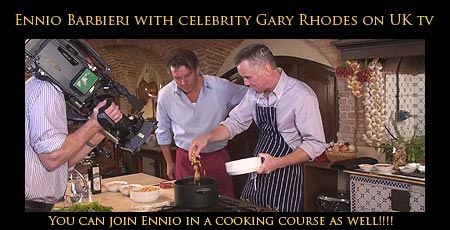 last modified January 2016
Beautiful house with pool for 8 persons, The house has been beautifully restored to create spacious, stylishrooms combining elements of rustic tradition with modern comforts. Four double bedrooms, living-room, kitchen, two bathrooms, veranda.
Beautiful holiday house situated on two floors with big wooden verandah in front of it. There you can enjoy the panorama over the fields and the mountains. Two double bedrooms,living-room, kitchen, two bathrooms, veranda.
Very bright holiday house situated on the main floor. The spacious living-room gives a wonderful view of the garden through the big stone arch and has French doors to a private wooden verandah. The apartment gives a wonderful view of the garden and the Sibillini mountains. One double bedrooms, one twin, living-room, kitchen, one bathroom, veranda.
Cool and quiet holiday house situated on the main floor, with a wooden verandah and a view over the orchard and the valley of the Chienti. The apartment has One double bedrooms, one twin, living-room, kitchen, one bathroom, veranda.
Beautiful Apartment for 2 persons, with a separate entrance from a outdoor-staircase: double-bedroom, one living room equipped with kitchen corner, a spacious bathroom. It has a private wooden veranda, dining table and sofa.
Holiday romantic little house with a wooden verandah directed towards the hill with a splendid panorama of the Chienti valley and Sibillini mountains. The space inside is divided in a corner with a double bed, a bathroom, a kitchen-corner. Stairs lead to a small split-level. Two doors: one towards the swimming pool, and the other towards the valley, so that privacy is guaranteed.