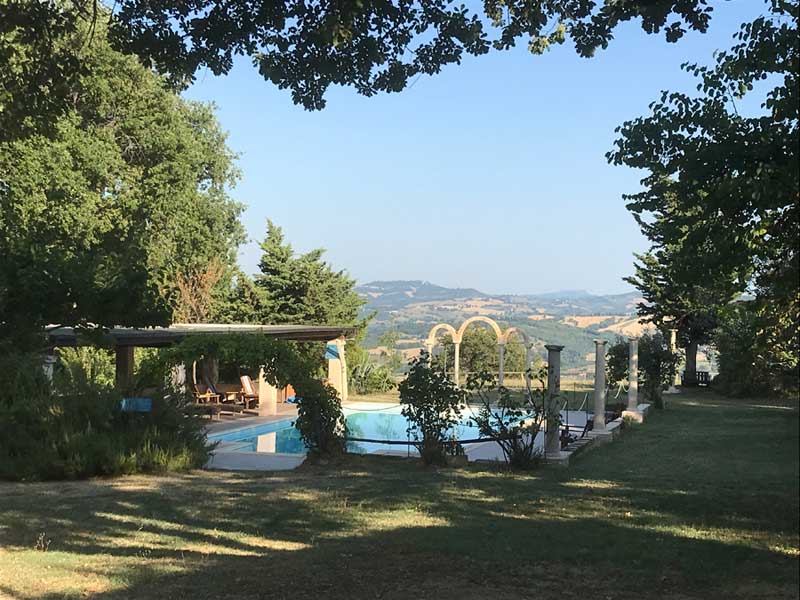 24
May
2022
Summer Yoga camp
Start date
24 May 2022,
yoga practice in the nature in Italy,
twice daily inspiring yoga classes with
Francesca Marziani from Yoga le Vie Bologna.
Price per person
300.00€
,
Pomorosso yoga retreat and holiday with Yoga le vie Bologna
Via Colli 10
-
Serrapetrona
62020
,
Italy
http://www.pomorosso.it/yoga-retreat-italy-program.html
Tango and Friends at Caravanserraglio
Yoga & relax in Italy
A break that will allow you to unwind, relax, and physically, mentally and spiritually recharge, enjoing italian sun in a relaxing and informal atmosphere, in a fantastic location with fun and new friends.
Residential Yoga & tango workshops
Where? at the Caravanserraglio,
an organic farm located in the mountains of Marche, it will be the retreat center of a week with tango, yoga and Italian cooking activities, peaceful atmosphere and lots of joy and fun.
The farm offers 7 guesthouses, a restaurant, a beautiful hall for yoga and dancing, a big swimming pool, and endless view over the mountains.
During the week it will be possible to join the chef in the kitchen for a cooking course.
Price on request including accommodation, food, wine and classes.
Daily Yoga and Tango workshops in a perfect atmosphere for your Tango holiday, with swimming pool, restaurant and much more! You will have an opportunity of being in a natural paradise in Italy, in a informal and joyful atmosphere, surrounded by beauty and friends, waking up in the morning having breakfast all together, play in the pool, experience yoga exercises in open air, dancing Tango in a milonga with a 360º fantastic view, having lunches and dinners prepared with organic ingredients, the kitchen will be open and it will be possible to join the chef in the preparation of Italian recipes. During the week We will organize wine tastings and visit wines cellars, taste of local products , natural excursions, and every night a party in the milonga . During the week we will organize also excursions with visit to local italian milonga for dancing all together!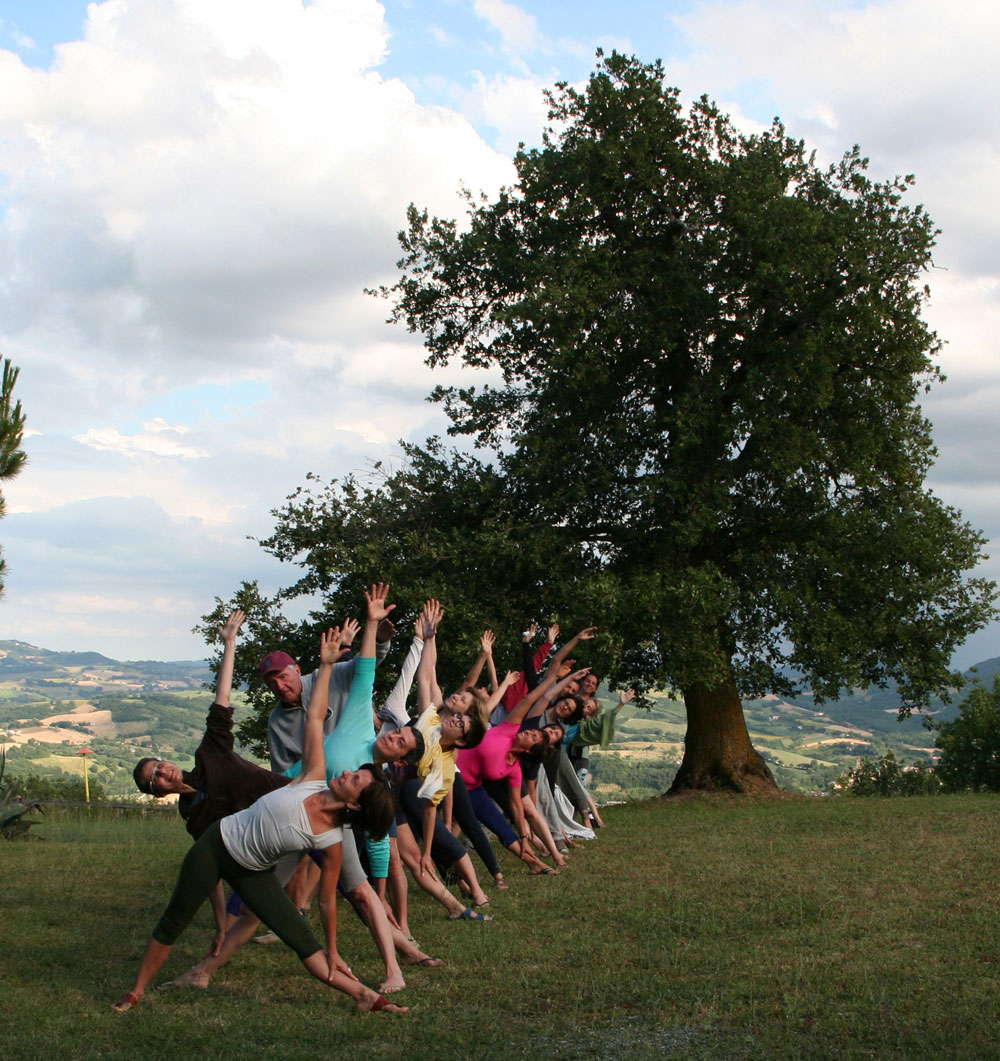 Yoga Workshops
During summer we have yoga workshops week-end from Friday to Sunday or week workshops, you can choose for a three days solution or for a full week retreat. Workshops start usually on Friday evening and end on Friday. After the evening workshop and the dinner there are occasion for chat with new friends and a good glass of wine dancing until late.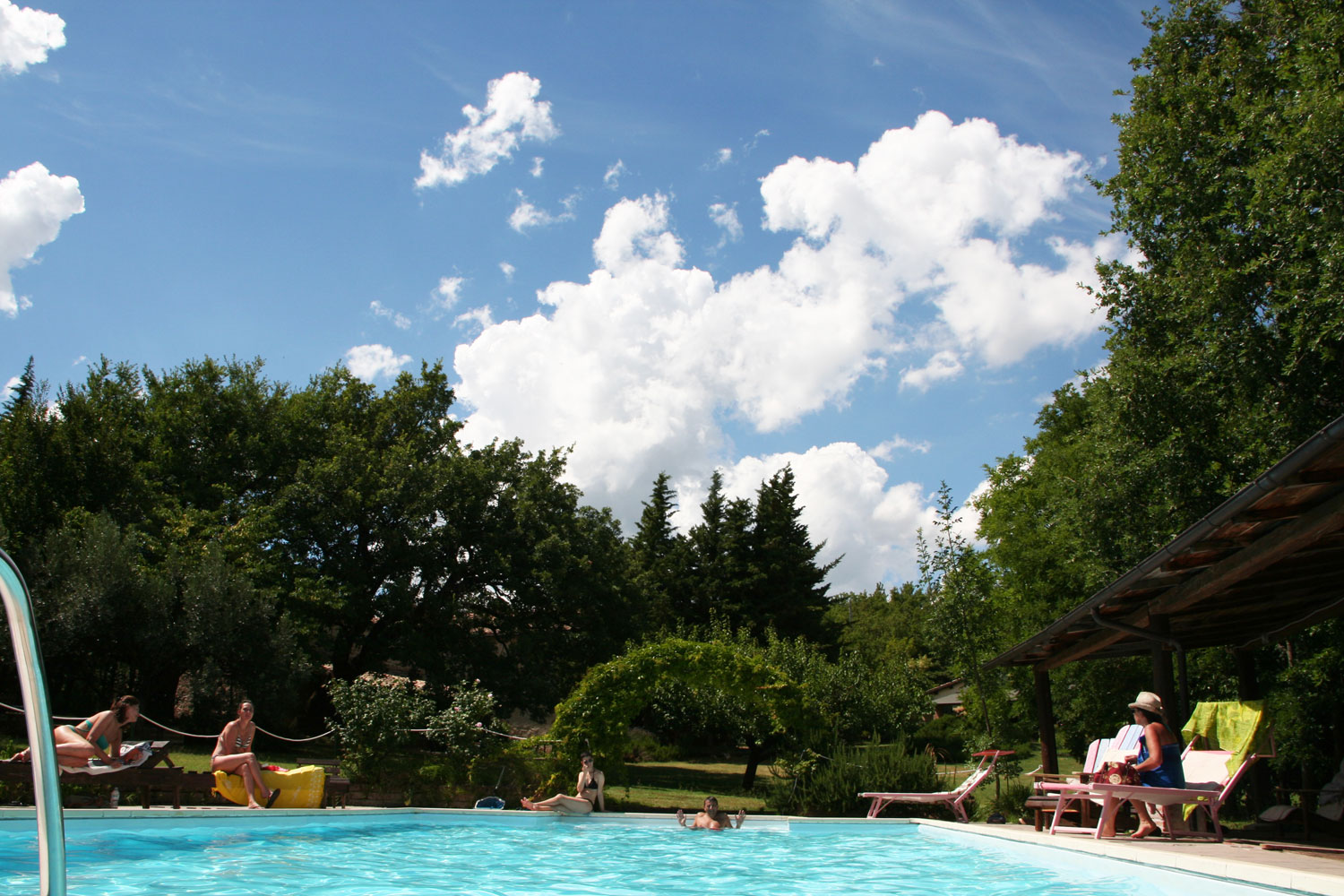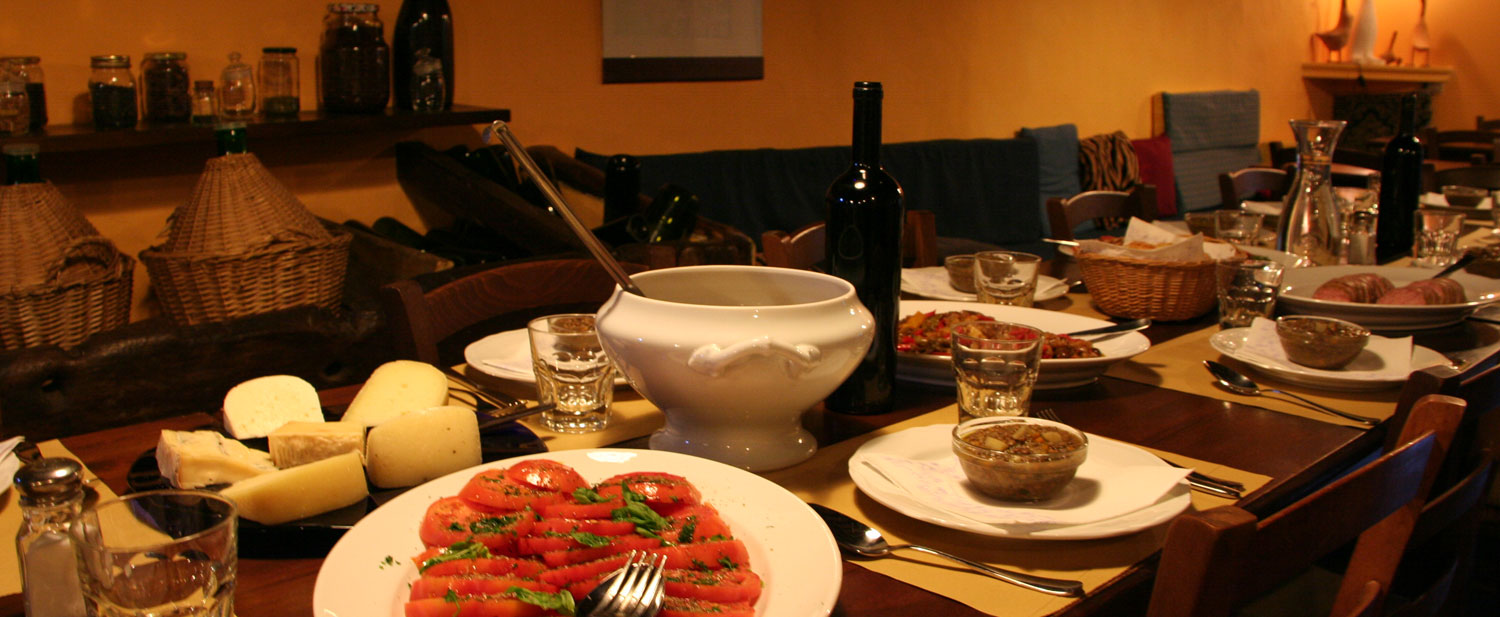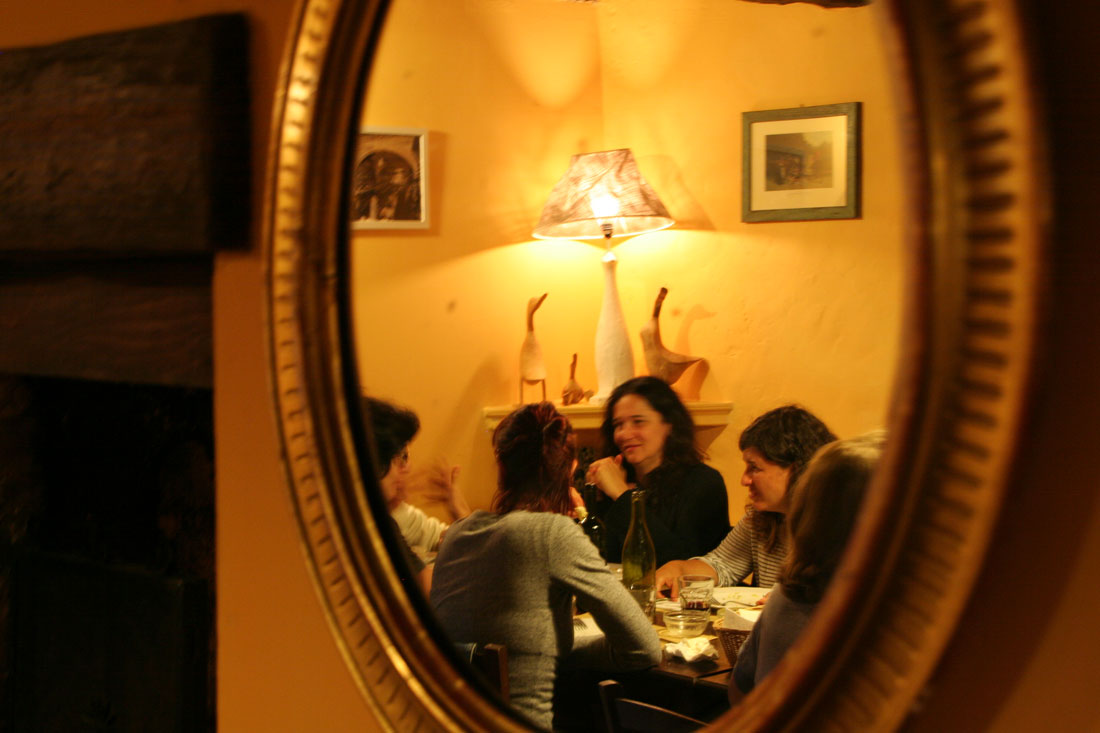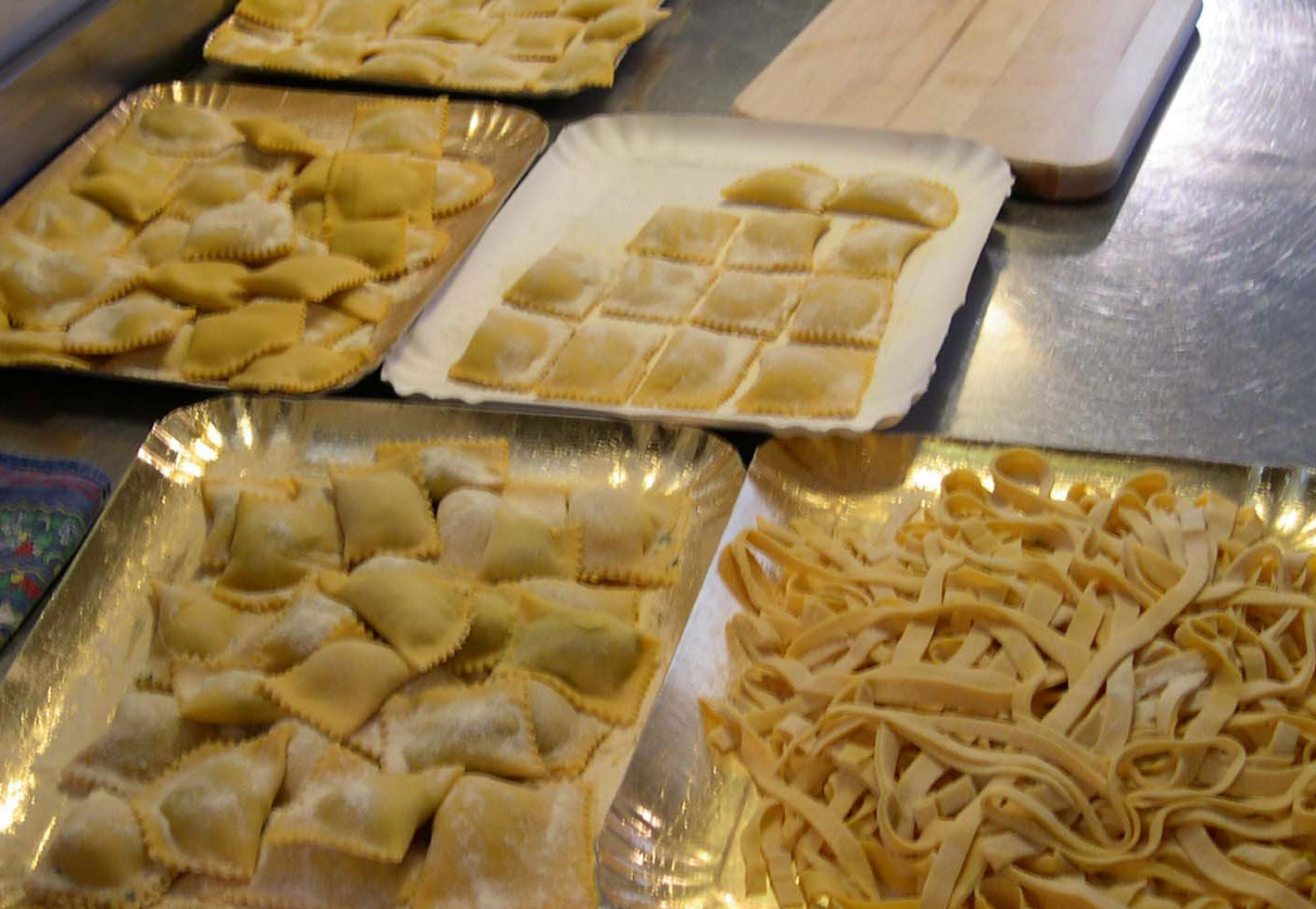 Seminario di Yoga per ballerini di Tango "Il corpo come veicolo"
Il seminario prevede un lavoro di tre giorni,diviso in due ore al giorno con una pausa di 20 minuti tra una e l'altra.Per un totale di 6 ore.
Giorno 1 -Introduzione al metodo -Lavoro sui piedi,metatarso e dita -Articolazioni grandi (bacino e spalle) -Pulizia della colonna vertebrale(torsioni) -Rafforzamento di centro, braccia e gambe -Introduzione alla postura dei piedi -Rilassamento Il lavoro punta alla pulizia delle Grandi Articolazioni(spalle e bacino)e alla colonna vertebrale.Perché ? Piú spazio articolare otteniamo,piú libertá di movimento avremo.L'Allungamento e il Rafforzamento ci permettono di realizzare movimenti attraverso il rilassamento che ci permette anche maggiore percisione nel Movimento.
Giorno 2 -Ripasso generale -Adomuka.L'importanza del lavoro di questa postura -Allungamento in coppia -Massaggi di piedi, schiena e spalle -Rilassamento -Introduzione alla meditazione Il lavoro sulla posizione Adomuka ci porta a un viaggio dentro il nostro corpo,aumentando la percezione del corpo come un tutt'uno. Segue lo stretching in coppia,che ci permette,attraverso l'aiuto del compagno,arrivare a lavorare punti che da soli ci risulterebbe difficile.Chiudiamo la giornata con una piccola sessione di massaggi.
Giorno 3 -Ripasso lavoro del giorno 1 -Postura del piede,rafforzamento di gambe e centro. -Allungamento e massaggi di gambe e piedi. -Rilassamento -Chiusura del seminario. Durante questa ultima giornata ripasseremo i concetti piú importanti del lavoro svolto,e concentreremo la lezione su gambe e centro. Il centro é inteso come centro del corpo.Se il nostro centro é "Centrato" e "Forte" siamo piú equilibrati e forti noi! Le nostre gambe sono le radici,la connessione con la terra,da dove si appoggia il centro.Da loro dipende il suo lavoro nel nostro corpo. Quest'ultima giornata propone un allungamento e un rafforzamento delle nostre gambe per un ballo armonico ed Elegante.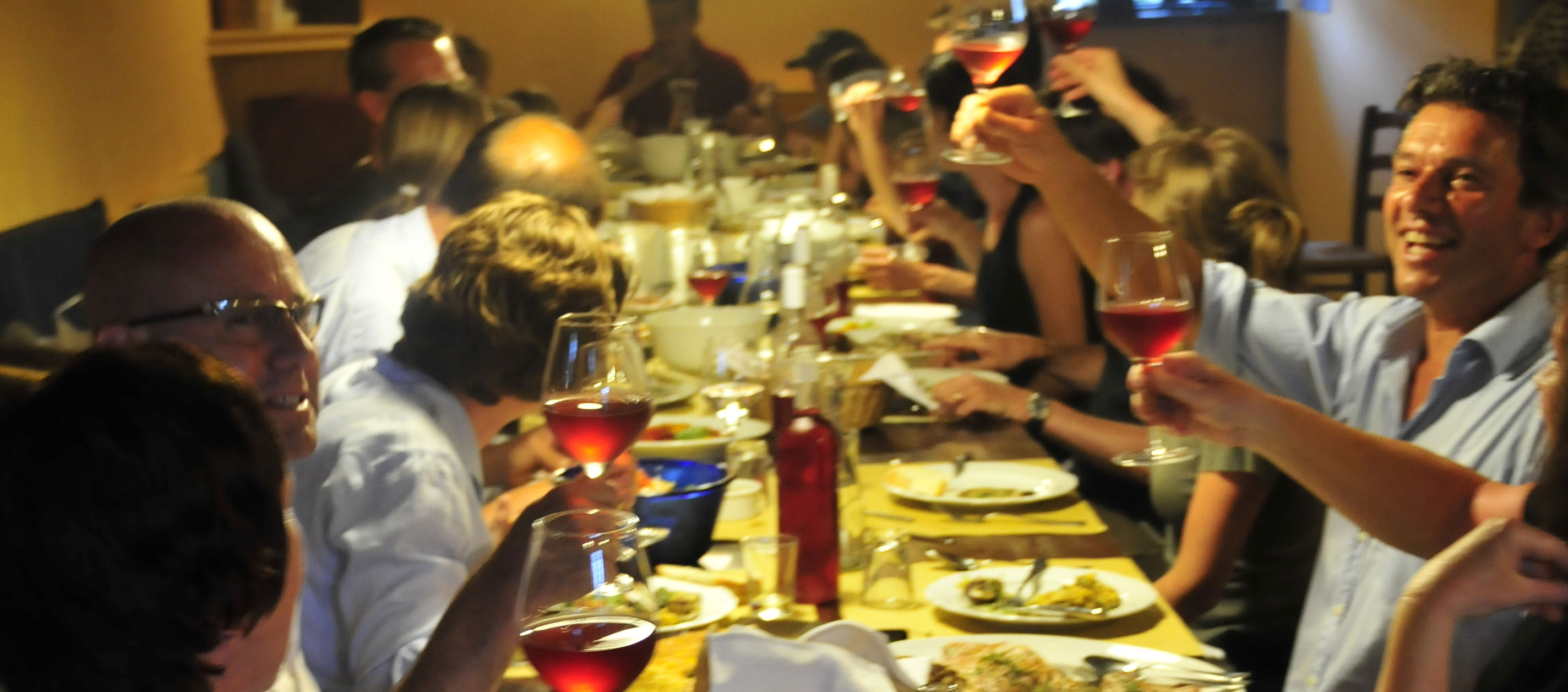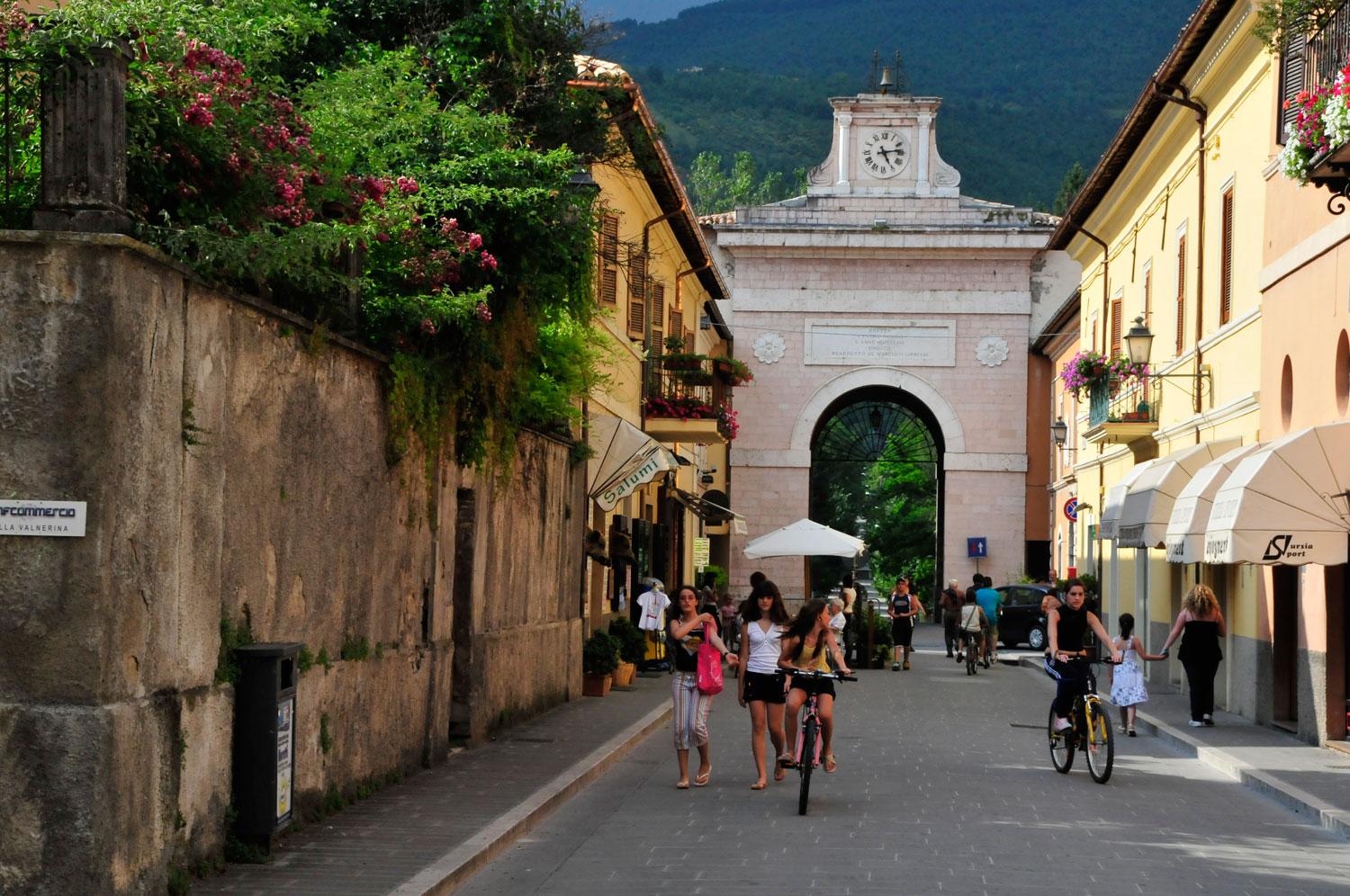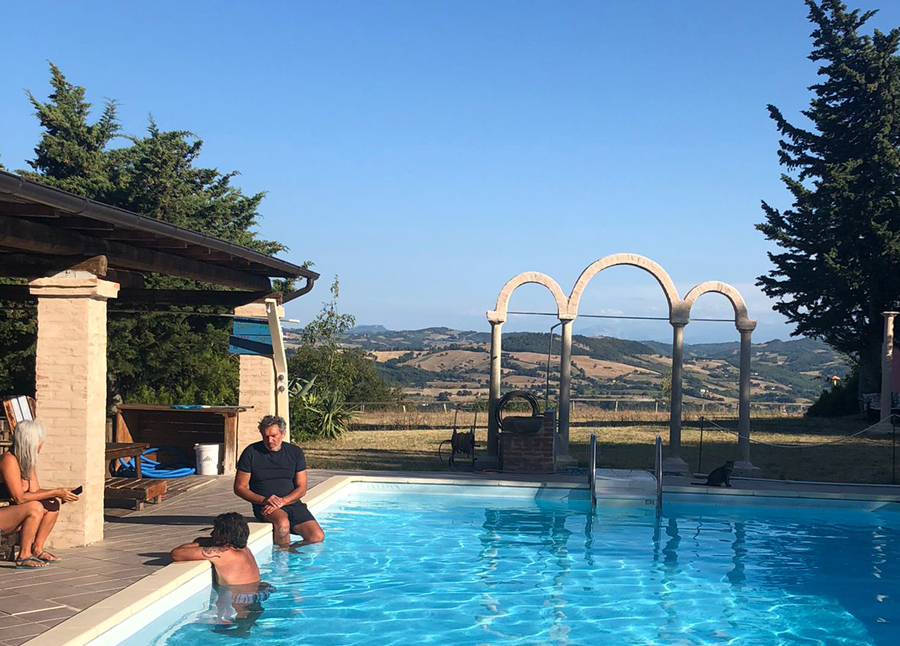 Highlights of the Yoga and Tango Course in Italy:
Daily yoga workshops in the morning:
In these workshops we will look into the basics of tango. The lessons are for everybody: beginners as well as for more advanced dancers who wishes to rediscover the fundamentals of the dance, work on their technic or start learning the other role of the dance. We will start every workshop by looking into the basic elements and from there develop them depending on the level and wishes of the students present.
Daily tango workshops in the afternoon:
These workshops will be in an intermediate/advanced level depending on the students present. However everybody is welcome to join, take part, watch and listen and take with them from the lessons what they can. In each class we will look into a theme and from there take it to where the class allows us.
Everyday yoga and tango workshops.
Full entertainment activities.
Full board Everything included in the price.
Visits to local wine cellars where Vernaccia reds have gained the prestigious DOCG title in Italy.
Visit and natural escousions to the sea .
Accommodation at the beautiful Caravanserraglio agriturismo with swimming pool, in comfortable self-catering apartments.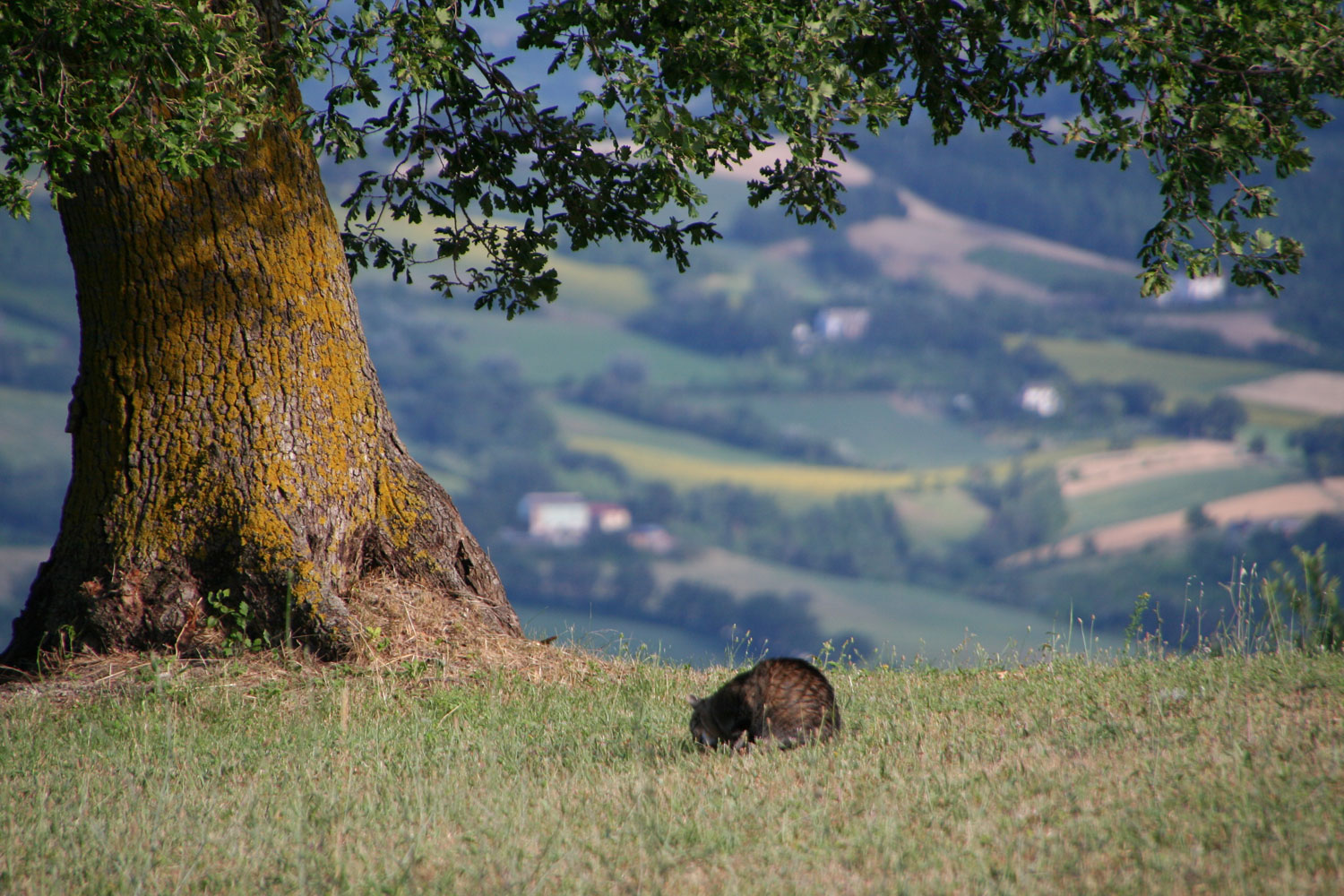 Yoga & good food
Around it a natural park with pool, corner with sofas and armchairs for meeting people, where you will always find coffee or tea. Scattered through the hill are some villas and apartments hidden in nature. The most beautiful of Caravanserraglio is to be in the middle of nature, with beautiful gardens, a large swimming pool and quiet places to sunbathe and relax.

YOGA HOLIDAYS CALENDAR Would you like to come with your own group? We have designed a range of packages for group leaders. View details »
Yoga & Dance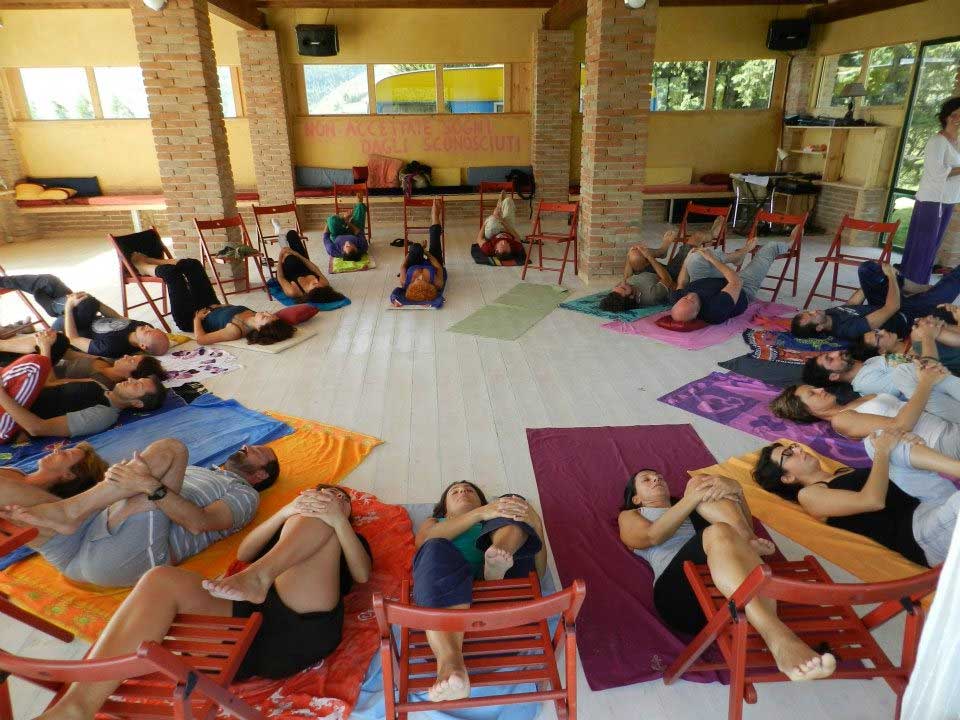 A Yoga School with a View!
Next to the holiday villas lies a covered wooden buddha-hall with a fantastic view on the valley and the the Sibillini Mountains on the backdrop.
Yoga per ballerini di tango
"Il corpo come veicolo"
Le tensioni diarie,lo stress,le posizioni sbagliate de corpo,le ora di fronte al computer,ecc,ecc...ecc., generano blocchi nel nostro corpo che possono cominciare con un semplice malessere,diventare un dolore insopportabile,come il forte mal di testa. Quando balliamo tango,molte ore,diversi giorni alla settimana,i nostri piedi ricevono il peso del nostro corpo durante tanto tempo, posture sbagliate, tensioni delle spalle,e le scariche non allineate del peso,possono generare vari dolori nel corpo.
Cosa fare in queste situazioni,come sbloccare le tensioni,come alliviare il malessere?
Lo yoga per ballerini di tango,vede il corpo come veicolo que ci porta per la vita,e propone un lavoro di "pulizia" che punta allo sbloccaggio delle articolazioni di bacino e spalle,collonna vertebrale e piedi,alleviando tensioni,rafforzando e allungando il corpo.
Lo Yoga per ballerini di tango,basato sul Metodo Iyengar,lavora verso la pulizia delle articolazioni grandi del corpo,bacino e spalle, colonna vertebrale, e anche e soprattutto delle articolazioni dei piedi ,metatarso,caviglie.
Propone un lavoro di allungamento e rafforzamento del corpo,preparandolo per il Ballo e la Vita stessa.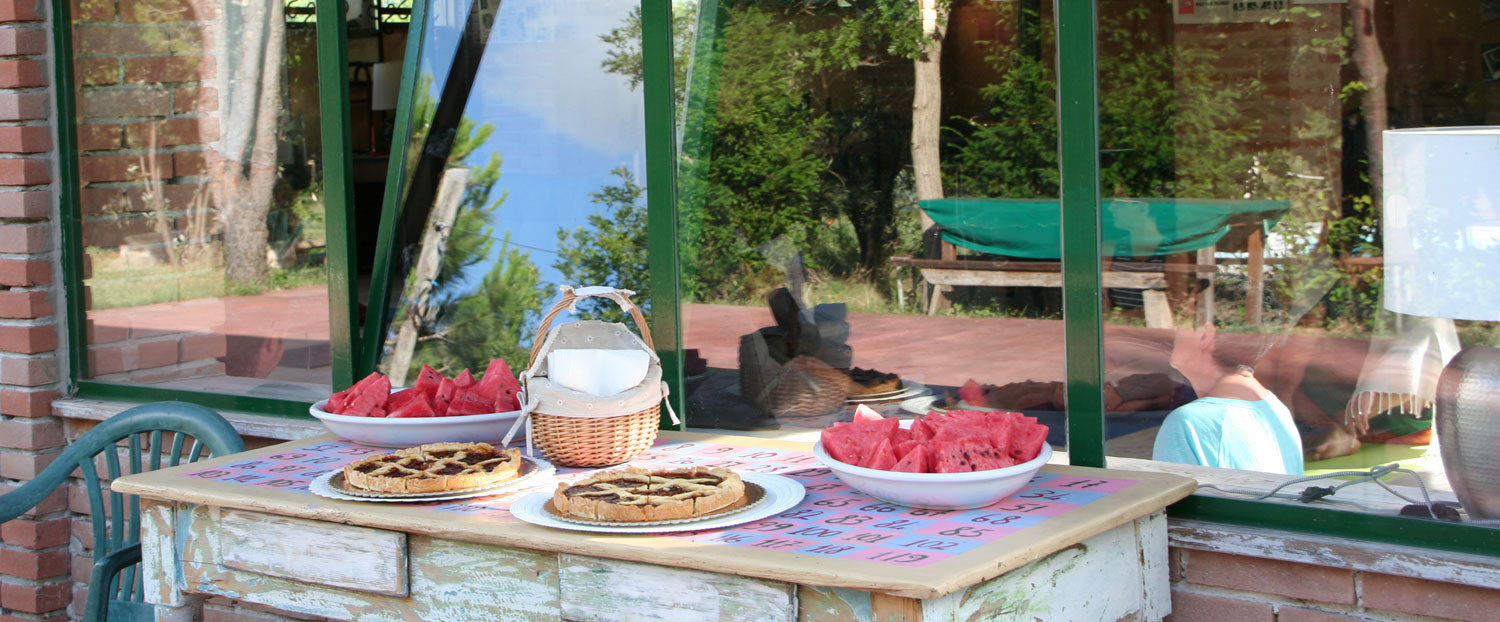 Yoga & Tango Holiday in Italy Includes:
1 week 7 nights accommodation with breakfasts at the Caravanserraglio agriturismo
Everyday yoga and tango workshops
Excursions
use of swimming pool
7 dinners + 5 lunches total of 12 Meals & Wine at the Caravanserraglio restaurant
final cleaning
weekly change of linen
water, electricity and gas
What is not Included?
Airfares
Travel insurance
An optional excursion may be offered which is not included in the tour price
Personal transport costs, phone calls or tips
Entry fees to places other than those specifically mentioned in the itinerary
For information info@caravanserraglio.com
Pure Wellness & Fun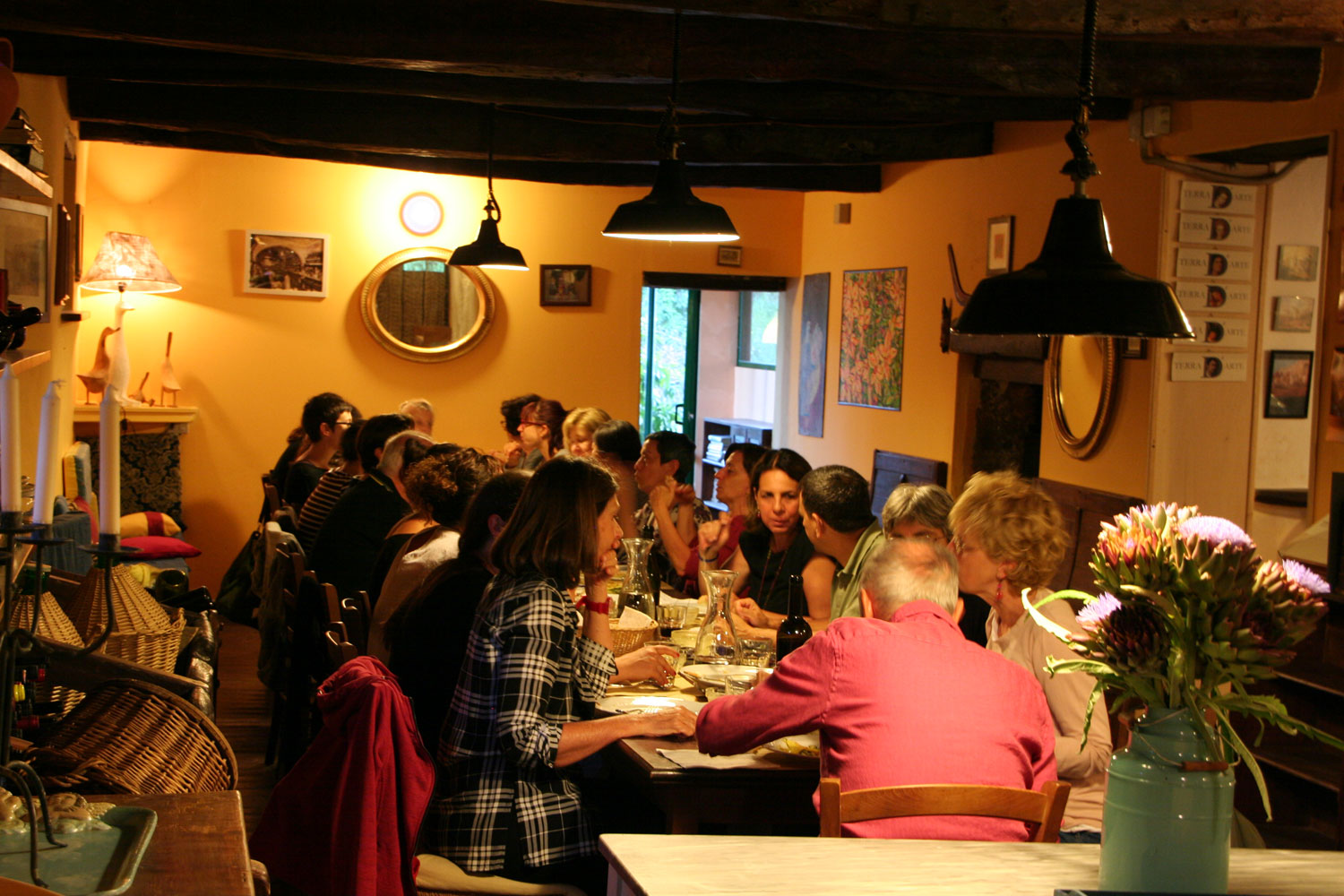 Experience the best of Italy, the best of Yoga, the best of Tango, abundant Nature, inspiring surroundings and more...
Tango Holiday in Italy at Caravanserraglio

Our Team
Our team of international and local staff provide the very best in yoga classes, tango lessons, cooking courses, delicious Italian food, activities, nature excursions, art and many more activities, plus you'll have time to relax, swim and soak-up the atmosphere of Italian life.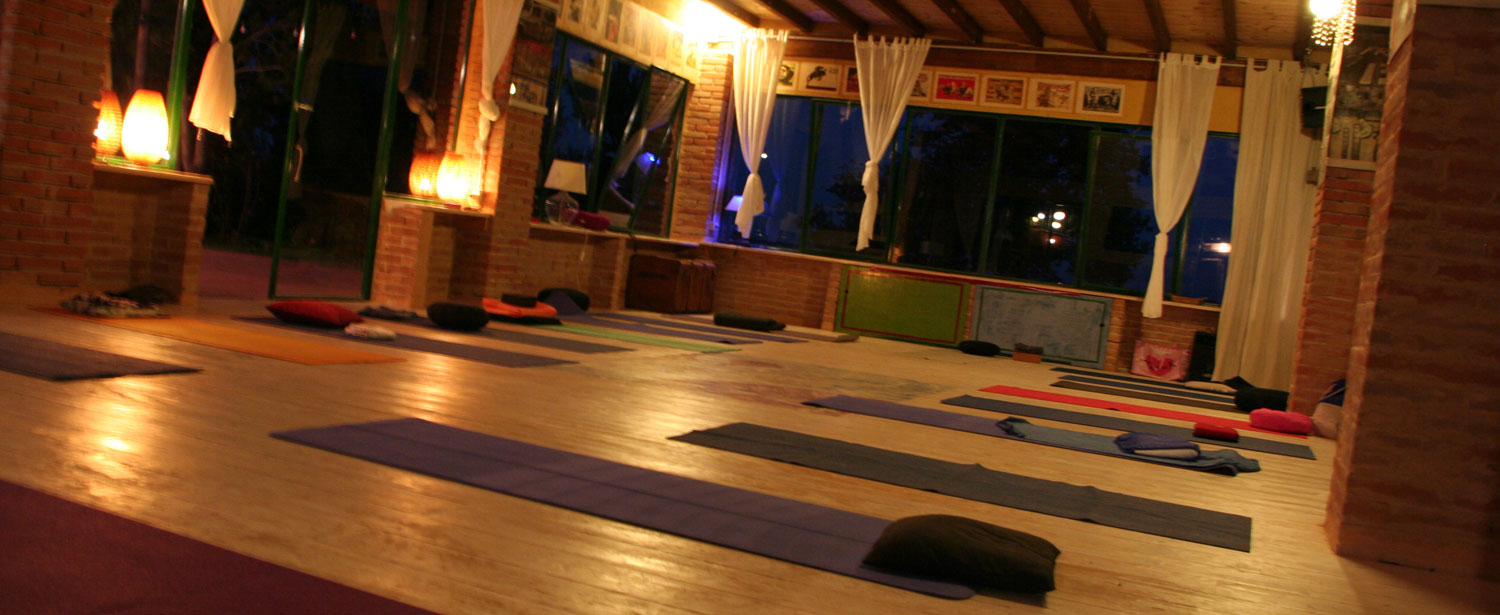 contact us at
info@caravanserraglio.com
Tel. +39 333 8492998