Have a taste of Marche.
De week is zo ingedeeld dat er elke dag gezamelijke activiteiten zijn, zoals de mooie excursies naar kunststeden, monumenten, leuke stadjes en inspirerende plekken, Italiaanse kooklessen en wijnproeverijen. Daarnaast is er alle ruimte en genoeg tijd om tot jezelf te komen en te genieten van het mooie landgoed met zwembad.
De Smaak van Marche cursus is samengesteld om mensen te inspireren met het moois dat Italie te bieden heeft. Het geeft je enerzijds de gelegenheid om dit (voor velen) onbekende gebied te ontdekken en anderzijds biedt het een verdieping van je kennis over de Italiaanse (kunst) geschiedenis.
De cursus is open zowel voor beginners als voor de meer ervaren personen. De ervaring van Ennio als docenten doen alle personen van alle niveau's aan zijn of haar trekken komen.

contact us at
info@caravanserraglio.com
Tel. +39 333 8492998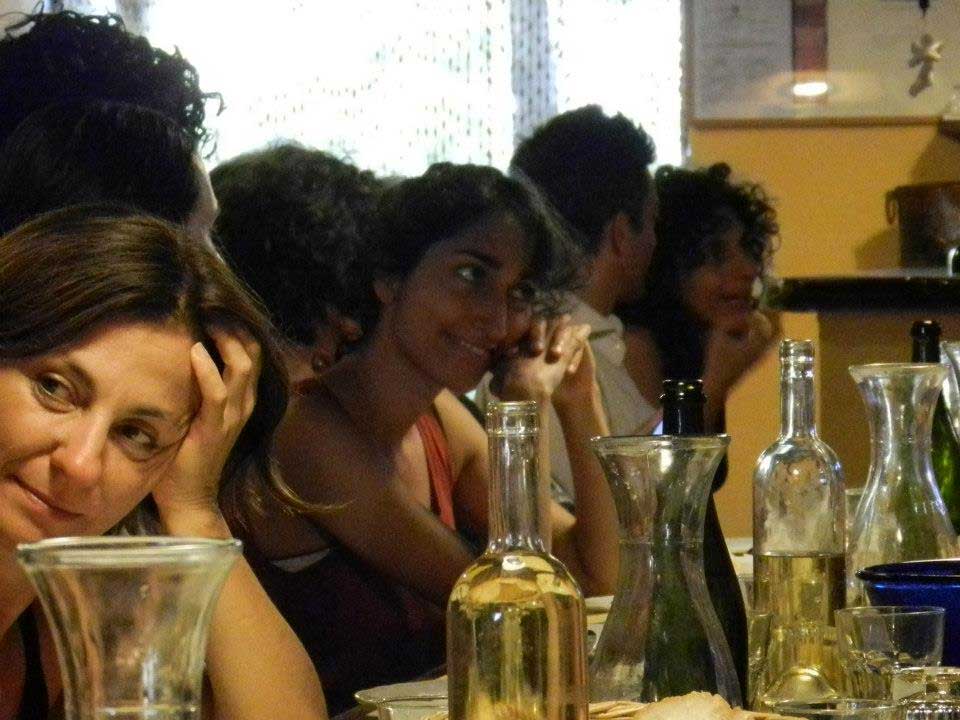 Ennio nodigt op een ontspannen manier alle deelnemers uit om actief deel te nemen door open te staan voor eigen observaties en (in het geval je dit wilt) het delen van indrukken en geeft daarvoor de tools. Op een informele manier en vooral om te genieten!

De Italiaanse kooklessen zijn in de ruime, professionele keuken met kookeiland in het restaurant Caravanserraglio door de Italiaanse chef en gastheer.

Aan het einde van de cursus kun je heerlijke Italiaanse gerechten klaarmaken en koken voor vrienden en geliefden bij thuiskomst. Op een levendige manier leer je over de kunstgeschiedenis van het hart van Italië. Middels wijnproeverijen, bezoeken aan wijnproducenten en lessen met achtergrondinformatie leer je veel over de Italiaanse Marche wijnen. Een unieke ervaring die je op een ontspannen manier introduceert in de kunst, het eten, de wijnen en het leven van een van de mooiste en authentieke regio's van Italie.
De excursies met gids leiden naar kunststeden, monumenten, kerken, musea, naar prachtige frescocyclussen en inspirerende abdijen. Zij opent deuren naar mooie collecties die normaalgesproken dicht blijven voor publiek.
Kunst en gastronomie gaan hand in hand bij het opsnuiven van de Italiaanse cultuur in de Smaak van Marche cursus!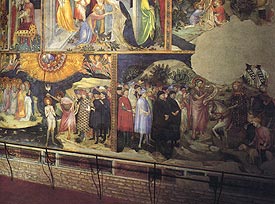 Italy art tours to hidden art treasures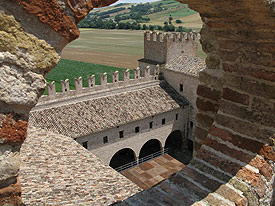 discover the beauty of Marche Italy!
Art & food Holidays for Lovers of Italy
Taste of Marche combines Italian cooking classes with Art Tours in Marche Italy. Enjoy daily Italy activities: tours to Art towns, Italian cooking courses, visit to local markets, wine tastings and lively lectures on Italian culture and....relaxing in the swimming pool or in the sun with a nice glass of Italian wine!
The cooking classes are held in English.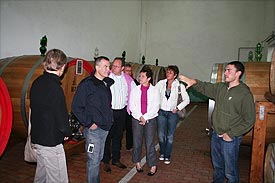 Visits to wine producers and lively background lectures, you will know more about the major Marche wines through wine tastings, visits to producers and lively background lectures.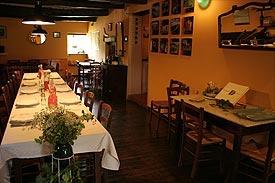 Italian cooking courses and delicious Italian meals at the Caravanserraglio Agriturismo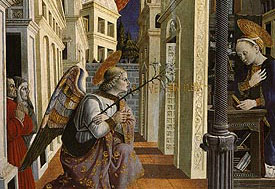 wonderful tours to stunning places in the heart of Italy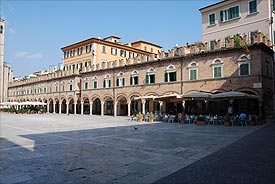 guided by your personal art historian
Italië cursus Prijs: € 1250,00 per week Includes:
7 nights accommodation with breakfasts
7 dinners + 6 lunches with Wine at the Caravanserraglio restaurant
3 full-day excursions with lunch (art towns, exhibitions, medieval villages, monuments, open markets)
3 cooking classes
3 half-day excursions with lunch (art towns, medieval villages, open markets, hiking)
the ingredients for the hands-on cookery course
all land travel in Italy included in the itinerary by private 8 person coach
Entrance fee, or Entry fees for museum or when is request, is not included in the tour price
use of swimming pool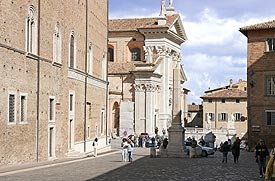 Visits to wonderful Italy Art towns.
This is a unique experience and will introduce you in a relaxed way to the art, food, wine and life of one of Italy's most beautiful regions.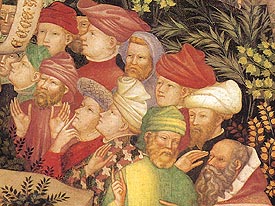 He opens doors to collections that usually remain closed to the public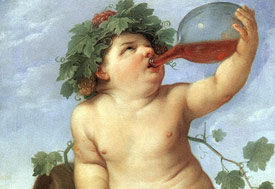 Lovely Italian wines
This is a unique experience and will introduce you in a relaxed way to the art, food, wine and life of one of Italy's most beautiful regions.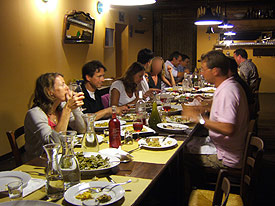 Delicious Italian meals during the Holiday
At the end of the course you will be able to cook some simple and delicious Italian dishes and surprise your friends and beloved ones when your are back home.
The cooking classes.
The cooking classes are held in English, by your Italian chef and host Ennio Barbieri and his friends. Behind his joking and informal attitude hides an enormous source of knowledge and information that satisfies both the lover of the Italian Kitchen and the professional. He is an active member of the Slow Food association, researcher of ancient traditions, receips and alchemy. Everyday a cooking course, excursions to local markets to buy the ingredients, picking aromatic herbs and vegetables from the kitchen garden, wine tasting and lectures. Italian cuisine is inseparable from the Wines and the vineyards the markets and the medieval villages, the landscape and the climate and Marche is the perfect place to experience the real authentic Italy.
Highlights of the Taste of Marche:
Guided visits to Urbino, Assisi, Loreto, Macerata, and beautiful convents and abbey in Tolentino and Abbadia di Fiastra.
Italian hands-on cooking classes and dinners based on regional recipes at the Caravanserraglio restaurant.
A series of lively and informative background lectures on the Italian Kitchen and Italian wines.
You will learn directly from an Italian Chef about gastronomic delights such as Truffle, porcini Mushrooms, fresh pasta, gourmet dishes and much more.
Visits to various local wine cellars where Vernaccia reds have gained the prestigious DOCG title in Italy.
Visit to local pecorino cheesemakers. Demonstration of the making of mozzarella cheese, ricotta and pecorino cheeses.
Accommodation at the beautiful Caravanserraglio agriturismo with swimming pool, in comfortable self-catering apartments.
Italian life-style
Someone have said: we are what we eat. We can say that we are so lucky that we eat with all ours senses, with our mouth, with our eyes and with our ears and with the complete atmosphere that surrounds us. We do not simply feed ourselves. We try to take care of ourselves and of our guests. This will be the topic, this will be the philosophy of the courses: to use the best ingredients and preparing food with care. We will use the best products that come from organic farms, and we will chose all the products are with the greatest care. Particular attention and space for vegetarians recipes. The meat-products are carefully selected and they come from the local producers. Also the different kinds of cheeses, vegetables and the home-made pasta's are of the highest quality, with a view to a well balanced diet. The wines that we serve are selected and mainly local. The dining room of the restaurant is maintaining it's rustic and warm atmosphere with wooden floor, furniture and ceramics, together with the informal presentation, form the backdrop for the food that is well taken care of. Than just enjoy an Italian cooking course with us!